>> Friday, November 28, 2008
Today is a very scary day for me. I am not into malls or retail stores. The way people act today is scary! In the spirit of Black Friday, I am making a list. First... a non-sciencey lesson on the origins of this day.

Credit is given to Macy's for the official kick off day for Christmas season shopping for advertising so heavily the day of their famous parade. The term itself was supposedly not used until the sixties when people commented on the amount of traffic that day. Stores in recent years have perpetuated the Black Friday Myth by feeding our need to feel like we are really saving money by offering ridiculous sales at the wee hours of the morning on this day. It is not really the busiest shopping day of the year, but close. Usually, the busiest day is the Saturday before Christmas.

Now, for those of you that still feel you have to buy something, but hate lines, traffic, coughing people, whatever, there is always internet shopping! I like this way. I can just ship it to who I want without waiting in line at the Post Office and I can shop in my pajamas! Now to take it one step further, I am not going to list off where else you can get the sausage and cheese gift pack (yeek) but instead, give you a list of things people can use or feel smart using. Consider this your guide to shopping for geeks.

For the Internet Junkie:


ThinkGeek
has this brilliant Wi-Fi detector shirt. Yes, you read correctly. The shirt itself is a Wi-Fi detector so you can set up your laptop wherever your shirt lights up! I think this is handy and hilarious. What a statement!


For the Dinosaur Lover:
Now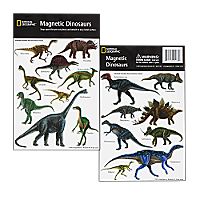 I know I am not the only one who has a ton of weird magnets. At least these I can learn from! These Magnetic Dinos are from the National Geographic Store
and are great for people of all ages. On the fridge, file cabinet, in a locker, see? Quite useful and educational! :oD


For the Genius-to-Be:


Buy toys safely during the holidays...WonderBrains' Toy Safety Guide is full of information on how to find safe toys for all kids. The site also has articles about the usefulness of educational toys in toddler and child development and has a plethora of great toys like this amazing butterfly pavilion. Now you KNOW I wish I had one of these as a kid! They send you painted lady caterpillars and food and a release cage with information about the whole process. So what if it's for kids, I want one anyway! But don't worry, if you're not into science, they also have toys for reading, social studies, math and more. I don't have any kids, but I think I may make a wish list off this site anyway. They have a glowing ant farm!

Another great site with lots of smart kids' stuff is Educational Toys Planet. They are a little more well known and have lots of age groups and topics to choose from. They are very well known for their brilliant educational games.


For the 007 Geek:

Yes yes, I have recently been converted into a James Bond Geek. I have seen a few Bond movies in the past, but always left agitated. The last two, however... well. Daniel Craig is a great Bond. He isn't pretty, but he is convincing! Yes, I just recently saw Quantum of Solace and while there are still Bond-isms, cheesy quips, and a seemingly sexist bent, there is a good heroin and Judi Dench is just a fantastic M. Okay.... okay. Enough of that, where was I going? Ah, yes, for the 007 or all things espionage geek. This is a perfect and novel gift for the person who is a Clancy
addict, has seen all the Bourne movies
a millions times (wasn't Joan Allen superb as Pamela Landy?) and thinks that Ian Flemming is a near deity. I present this really awesome spy kit from the Discovery Channel Store. Drool. You know you want to. It has an earpiece light so you can see hands free, a sound amplifier, a utility belt, a motion sensor, and a special pen to write secret messages! :D

Okay, I know I am leaving a lot of geeks out today, but maybe more updates later. Even virtual shopping wears me out. I really am a horrible consumer. I would NEVER last in a real mall! haha. I hope this helps with some of your geeky shopping or at least gives you some ideas of what to look for.

Remember, if you have questions about science, have an idea for a topic or debate, or anything else you see on this site, email me at moya.marizela [at] gmail [dot] com.

Happy Black Friday!